Until Liberation: Solidarity with Palestine.
Dato:
03.12.2023
Tid:
13:00-23:00
Arrangør:
Comrades INC, Until Liberation Coalition and Vers libre.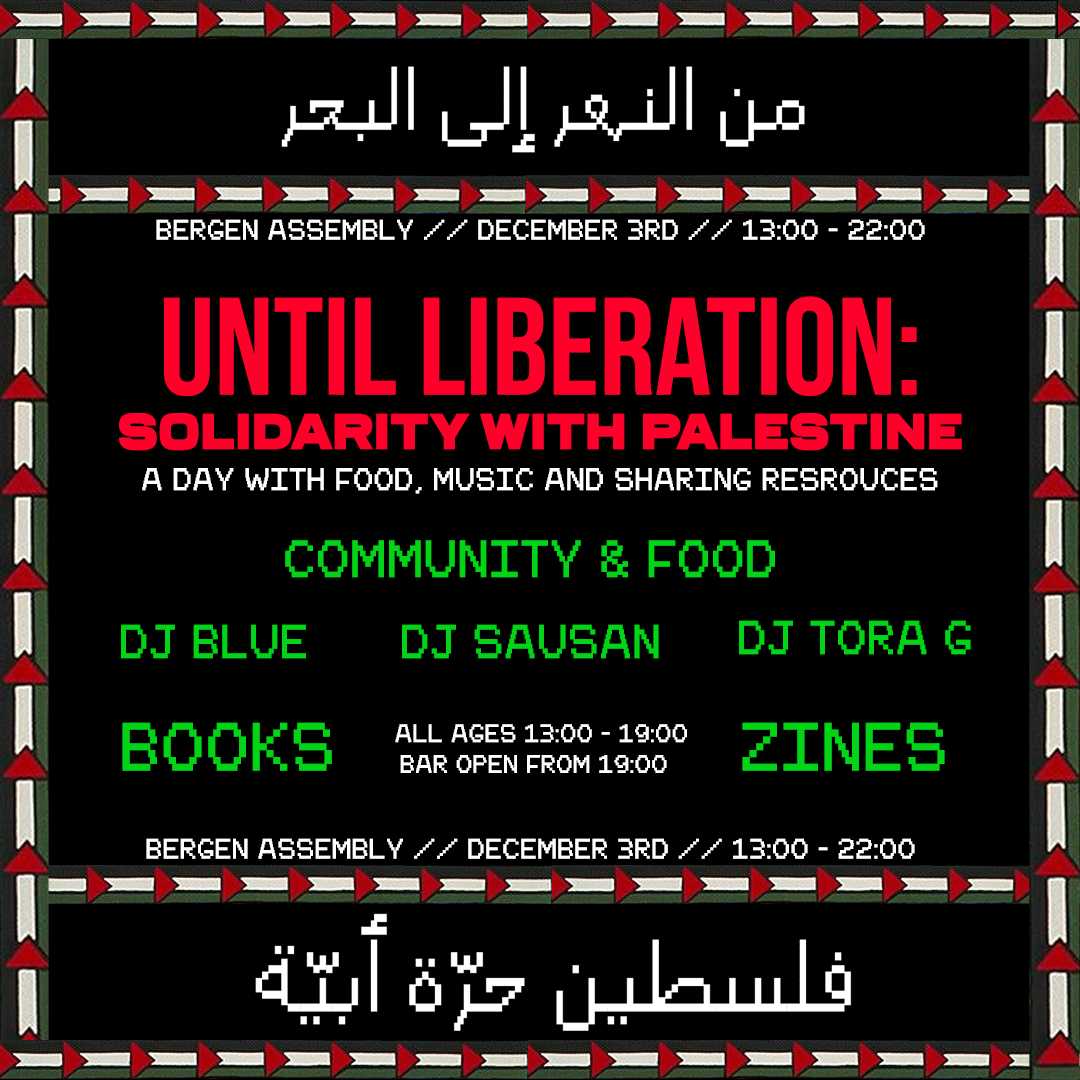 Until liberation: Solidarity with Palestine
When:
December 3rd
13.00-19.00
(alcohol free and open to all ages)
19.00-23.00
(bar open)
Where:
Bergen Assembly (Halfdan Kjerulfs gate 4)
Event is free but we would like you to pay a solidarity prize!
All money will go into a Palestine fund that we will distribute as soon as the borders open and money and aid can get in!
---
Welcome to our event on December 3rd - Until Liberation: Solidarity with Palestine.
At the time of writing, over 11,000 people have been killed, 32,000 people have been injured, and one and a half million people have been internally displaced in the relentless assaults we've been witnessing against Gaza. We believe that every life is sacred and worth speaking up for and we refuse to stay silent in the face of the cruel injustices and escalating, inhumane violence faced by Palestinians in Gaza, the West Bank, and throughout occupied Palestine.
We are bearing witness to a real-time genocide carried out by an occupying ethno-nationalist nuclear power, and we unequivocally condemn this in the strongest terms possible. We cannot create a just, loving, and equitable world for all without being vocal in our support for a liberated and free Palestine.
We deeply believe in the power of coming together in community to honour our values and show our solidarity, and we deeply believe in the solace simple things shared together can bring us. We want to share food and songs from the region and beyond, to honour the incredible resilience of the Palestinian people and their unwavering commitment to freedom and liberation. Come show your solidarity! In the spirit of true Palestinian and Middle Eastern hospitality, we invite you to come share delicious food with us, to listen to music together to ease our spirits, and to spend a day in community. We hope you will honour us with your presence and generosity.
This is first and foremost a show of our solidarity, a space to gather resources for further learning and action, and an opportunity to raise urgently needed funds to help the people in Gaza in a time of acute crisis, in the most tangible way we have available to us. While we welcome questions and conversations in good faith, this is absolutely not a space for debate. We will provide a list of wide-ranging resources that we encourage you to take with you, to learn more about the Palestinian struggle for freedom over the last 75 years in your own time
.
From the river to the sea, Palestine will be free
Information about books, zines, programme and food will be posted as we go!
Bergen Assembly is universally accessible!
Toilets are HCWC, and gender neutral.
This event is in collaboration with
Comrades INC, Until Liberation Coalition and Vers libre.
Hosted by Bergen Assembly
---